Hey there, Instagram enthusiasts and marketers! Are you ready to take your Instagram game up a notch? Well, you're in for a treat because Instagram has rolled out an exciting new feature that's about to transform the way you curate your feed and stories. In this blog, we're diving deep into the Instagram Template feature—a game-changer for crafting a cohesive and visually stunning presence on the platform. Let's get started!
Introducing Instagram Templates: Where Creativity Meets Consistency
Imagine having a set of beautifully designed, customizable templates at your fingertips every time you're ready to post on Instagram. With the new Instagram Template feature, that dream becomes a reality. Whether you're a business looking to maintain a consistent brand identity or an influencer striving for a polished aesthetic, these templates are about to become your new best friend.
Why Templates Matter
Consistency is key on social media, and templates provide the framework you need to create a cohesive look that resonates with your audience. Here's why these templates matter and how they can transform your Instagram strategy:
1. Streamlined Visual Branding
Templates allow you to establish and maintain a visual identity that's instantly recognizable. From color schemes to font choices, you can ensure every post and story aligns with your brand's personality and style.
2. Time-Efficient Content Creation
Gone are the days of starting from scratch with each post. Templates streamline the content creation process, helping you create eye-catching visuals in a fraction of the time. Swap out images, adjust text, and you're good to go!
3. Aesthetic Storytelling
With the right templates, you can tell a cohesive story that resonates with your audience. Whether it's a step-by-step tutorial, a before-and-after transformation, or a series of motivational quotes, templates provide the canvas for your narrative.
4. Consistent Engagement
When your feed and stories have a unified look, followers are more likely to engage and interact with your content. Templates create a visually pleasing experience that keeps your audience coming back for more.
5. Flexibility and Customization
While templates provide a structure, they're far from rigid. You can customize colors, fonts, images, and layouts to suit your specific needs, ensuring that each post remains unique.
How to Make the Most of Instagram Templates
Ready to dive into the world of Instagram Templates? Here's how to make the most of this feature: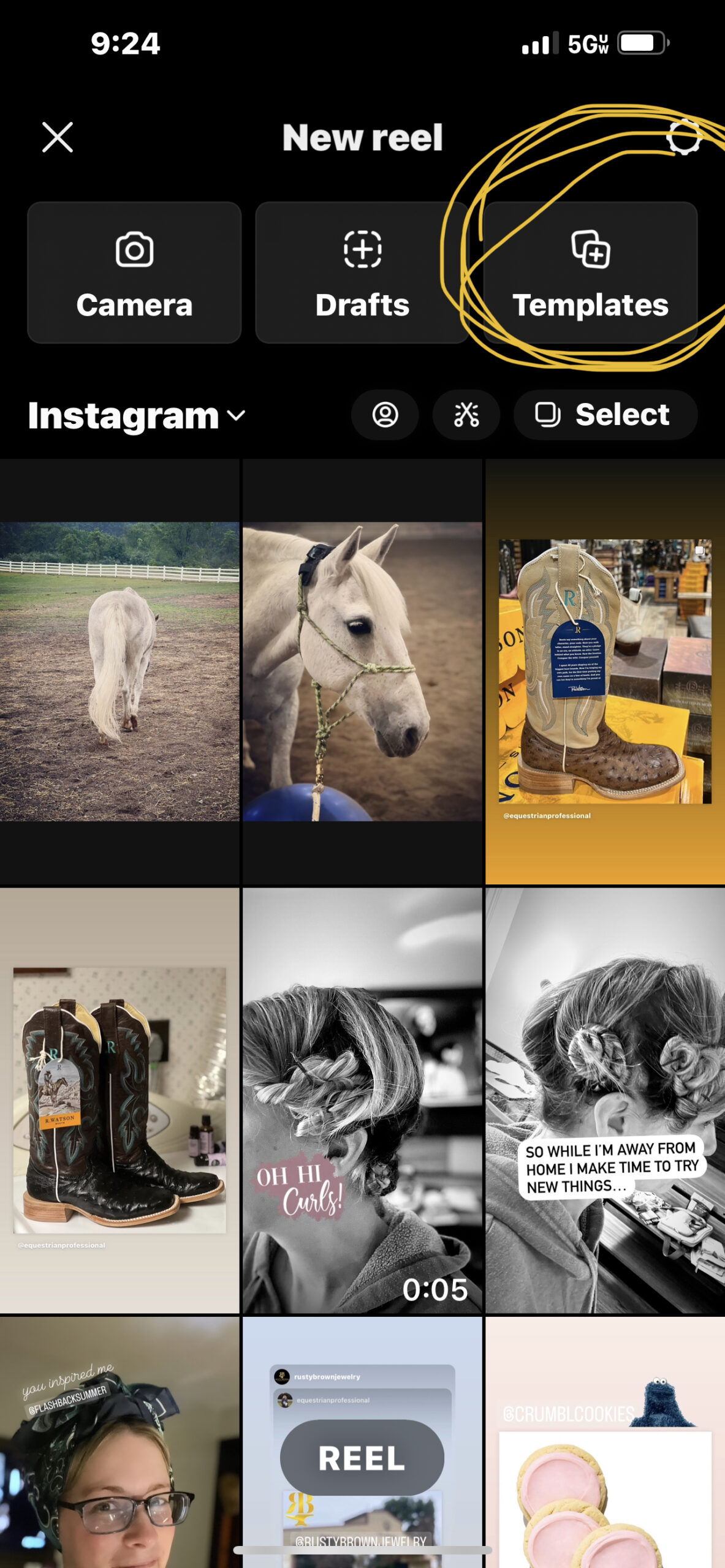 1. Access the Templates
Open Instagram's Stories or Feed posting options, and you'll find the Templates tab among other creative tools. Choose from a variety of pre-designed templates or start with a blank canvas to create your own.
2. Customize Your Template
Once you've selected a template, it's time to make it your own. Add your own images, adjust text, experiment with fonts, and play around with the layout until it matches your vision.
3. Save and Share
When you're satisfied with your creation, save it as a draft or share it directly to your feed or stories. Watch your beautifully designed content instantly enhance your Instagram presence.
4. Experiment and Evolve
Templates aren't static—feel free to experiment with different designs to see what resonates best with your audience. Over time, you'll refine your template strategy and elevate your brand's visual identity.
In a world where visuals speak volumes, the Instagram Template feature is a must-have tool for anyone looking to make a lasting impression. Whether you're a seasoned marketer or a budding influencer, these templates empower you to unleash your creativity while maintaining a consistent brand identity. So, go ahead and embrace the template revolution—your Instagram aesthetic will thank you! 🎨🌟