Have you been feeling unmotivated?
Or feel like what used to be working for you professionally, just isn't anymore?
I would love to share 5 of my favorite professional development books to light a fire in you. I promise if you pick one of these along with your fav beverage, you'll engage the passions you once felt for your work.
So let's dig in!
#1 – Quitter: Closing the Gap Between Your Day Job & Your Dream Job by Jon Acuff
This book holds a special place in my heart because it was a catalyst for me to leave corporate America and launch my own business many moons ago. #happydance
Jon brings his own experiences to the table with simple tips on how to transition yourself into your dream job. That may be working for another company or preparing yourself to start your own business. Jon's down-to-earth approach made this book a fun read, and also challenging as well.
Making a change in your life like a new job or leaving the workforce is a huge decision, and this book helped me to navigate the timing and speed bumps I encountered along the way.
Check it out HERE.
#2 – The Thank you Economy by Gary Vaynerchuk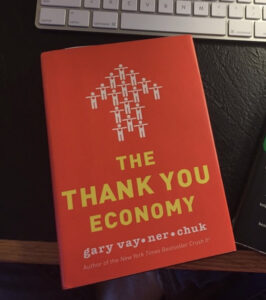 All of the books on this list of mine are fabulous; however, I would flag this as a MUST READ!
In a world that is just busy, learns about the negative, and where customer service is a long-forgotten phrase, this book is packed to the gills with actionable strategies that are sure to set your business apart.
If you have ever heard Gary Vee on Tiktok, IG, or any other social platform, he does not mince words, ever…
He goes straight for the throats of people that give crappy customer service. He reminds us that people do business with people. It's that simple, really.
He uses his vast knowledge to reveal how companies, whether big or small, can scale their businesses with a simple, personal touch. I truly believe that business is built on relationships, and his book has only confirmed that belief.
This book will make you laugh, inspire you and hold your feet to the fire. It will remind you that providing high-quality, unbeatable customer service should be the #1 priority in your business.
You can have the best billboards, social media content, email automations, or other marketing strategies, BUT if you do not provide customer service that gets people talking, you have missed the point of having a business. #toughlove
Challenge yourself to do better and step it up. Make a lasting mark on your customers. Learn how to do that with Gary's book today—> The Thank You Economy.
#3 – The Marketing Rebellion by Mark Schaefer
re·bel·lion
/rəˈbelyən/
noun
an act of violent or open resistance to an established government or ruler.
Typically when you think of marketing, you may not think of this definition; however, there are times when you need to go against the grain.
Building a business used to be fairly streamlined years and years ago. You had only a few options of how and where to market. It was much simpler.
At present, with the 1,000,001 ways, you can market your business it requires you to tilt your head a bit and take an entirely new approach than maybe what you are used to. You've got to be willing to be rebellious, if you will, with your business strategies.
Mark provides encouragement, challenges your thought process, and provides academic quality research on this broad and important topic.
This book is one of those, once you start reading you really can't stop. The feeling of empowerment that will come over you is undeniable. I have had the pleasure of knowing Mark for many years and he is not only an amazing author, but a genuinely amazing human, and I am proud to call him a friend.
Snag the book today HERE.
BONUS TIP: He's got loads of books he has written and I highly recommend every single one of them. They all live in my library!
#4 – Atomic Habits by James Clear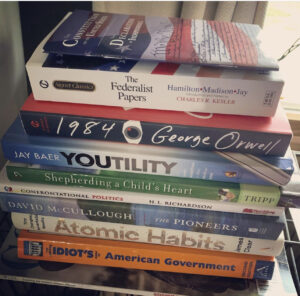 Let me start by telling you one of my not-so-fantastic habits. I am a serial book starter, but I do not always finish them.
So this book is one that I open and read 10-12 pages every so often and aspire to create within myself better habits of reading, among other things.
One thing James focuses on is striving to change 1% each day. He provides multiple steps to work through your not-so-lovely habits and create new ones little by little.
I appreciate his style of writing/teaching because it makes changing seem attainable and not so overwhelming. #canIgetanAMEN
If you are ready to make a long-term commitment to small changes over time, this is the book you'll want on your shelf!
Get your tiny changes, and remarkable results HERE.
#5 – Start With Why: How Great Leaders Inspire Everyone to Take Action by Simon Sinek
When I think of your quintessential Ted Talk, I think of Simon Sinek. He's got a way with words, and his writing is certainly no different.
This book is one that will provoke you to think about your business from a totally different perspective. He encourages you to dive into the deepest parts of your why.
He shares great examples of how many leaders have changed the face of their companies by focusing on their why. Also how sharing your why with others will bring more people in.
Remember what I said previously. People do business with people, and understanding the story of how and why a business got started can certainly motivate people to buy from you and share what you are doing with their connections as well.
Check it out HERE.
I always love to hear about other amazing book recommendations.
CLICK HERE and let me know what I need to put on my reading list and why.