It's said that a picture is worth 1000 words.
When it comes to marketing, this statement could not be more true.
Marketers have always used images to create meaningful connections with their customers. Whether by sharing appealing photos of their products to create desire or by using visuals to tell stories that generate emotion, brands have managed to increase their memorability through the power of visual content.
When it comes to visual marketing, you don't need to create high-budget commercials to make your equine business appealing to your customers.
You just need a laptop and a little creativity.
What Is Visual Marketing?
Visual marketing is the practice of using images, videos, or any other type of graphic elements through which brands represent themselves and communicate with the public.
Some examples would be logo and web designs, brochures, images, and videos.
Moreover, visual marketing helps brands convey messages that otherwise would be difficult to express only through text, and it builds emotional connections that wouldn't be possible through other means.
Now that we know what visual marketing is, let's take a closer look at its main benefits for your marketing strategy.
It Increases Social Media Engagement
While we know that social media provides great business opportunities, let's not forget that the main reason people use social media is for leisure purposes. So, connect with your audience by creating engaging content that also brings value to your following.
Don't make your audience work to understand your message. Use attractive images and videos to make it more entertaining. After all, it's also for your benefit.
For example, studies show that people are 80% more willing to buy a product after seeing it in a video format.
Also, visuals in your Facebook posts increase your engagement rate by 2.3 times, while on Twitter, images gain 150% more retweets.
Improves the Customer Journey
Have you ever been curious about a product or service, visited the website or social media, and instantly been turned off due to horrible design or useability?
I think we all have.
You don't have to be a graphic designer, but you have to know enough to create clear, branded visuals and make sense for your business. 
You always want to offer the best customer experience from start to finish.
Through high-quality imagery, a flattering color scheme, and smartly placed visual cues, you can keep your potential customers on your website and guide them to the pages they can purchase.
Statistics show that click-through rates are 42% higher for websites with stellar visual elements.
It Makes Your Content Stand Out
Visuals are accessories for your content. They attract your audience's attention while also making your content aesthetically pleasing. 
Visuals can improve ads, blog posts, and social media content. 
Images and videos can help you get your message across in a more powerful way.
Think of the way you like to consume content. Typically, it's best to look for the most impactful image that will grab your audience's attention. Sometimes, you may have to test and measure what type of graphic works best for your audience.
I have found that pictures of animals around my farm, photos of my family and me, and other fun snapshots work better with my audience than a stock photo. That stock photo may be prettier, lighter, and airier; however, my audience engages more in personal photos.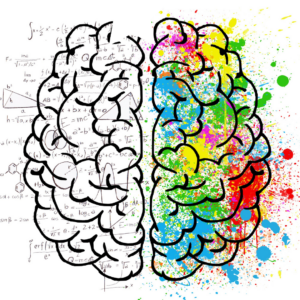 So, if you have important business news to share, a product launch, or an exciting promotional campaign, you don't want to skip on visuals.
Tips for Using Visual Marketing
If you want to improve your visual marketing strategy, some practices will improve the quality of your visuals. Let's have a look!
Put Effort Into Your Visuals
Incorporating visuals into your strategy is not just about adding stock images to your posts. Why? Because it can look impersonal and unauthentic. Exactly the opposite of what we want to achieve.
Images should evoke a reaction from your audience. A great way to do this is to incorporate funny memes, inspirational quotes, creative infographics, or visuals that create an emotional response. In the case of equine businesses, you could share beautiful pictures of horses, videos from an industry equine event, or videos from around your farm.
Moreover, visuals are also a great way of enforcing your brand identity. So create visuals that involve your brand colors and include your logo in the images you create.
Optimize Your Images
Search engine searches have significantly evolved in the last few years, and people are increasingly using image searches. That is why businesses need to optimize their visuals.
But how can you do that?
Let's say you want to optimize the images for your new blog post. The first step is to pick visuals that are relevant to your content. Then, all you have to do is create a specific description for each image in which you incorporate optimized keywords that will describe the contents of the images. Add that description to the alt text field, and you are ready to go.
As a result, the keywords chosen will increase your chances of appearing in the top search engine results.
PRO TIP: If you are not using Google My Business, stop reading and go set it up now! When people search your business on Google there is a good chance they are doing an image search, so do yourself a favor and upload some images to your GMB account!
Use Canva to Create Visual Content

Canva is an online design tool that is very easy to use and doesn't require graphic design knowledge. It is affordable, but if you don't want to pay for such a service, it also has plenty of helpful design features in the free version. The pro version is only $12.95, AND it is FULL of amazing stock photos. It is worth the minimal investment every day and twice on Sunday! 
You can create everything from basic photo edits to flyers and logos. Moreover, it's a great tool for crafting visuals for your blog posts and social media content. It helps you add an authentic feel to your content by incorporating your logo and business aesthetic into what you share with your audience. Canva has hundreds of design templates you can customize to match your brand standards. #easypeasy
Include User-Generated Images In Your Strategy
What makes user-generated content so great is the authenticity it provides for your brand. Having customers send you text, images, videos, and reviews, can make for some great social media posts. Even screenshots of the best comments your customers leave you can turn into an engaging visual.
User-generated content has more benefits than you think:
Boosts social media reach and engagement
Creates a better community around your brand
It provides your brand with more personality
It helps your gain more information about your audience
So, go through your reviews and comments, see what you can find, and share, share, share!
Now Back to You
As you can see, there are plenty of opportunities for you to make your content more visually interesting. These simple practices will help you gain more reach and engagement and earn more traffic to your website.
Creating visuals customized to your audience's needs is the key to high-performing visual content. So, experiment with images and videos, and see what works best for your business.
Imagine having a batch of professional content created for you each month that reflects your brand standards and has captivating captions for your audience to engage with! Yellow Barn Media offers done-for-you monthly content creation. Schedule a call with us and let our team do the work for you.