Did you know that word-of-mouth marketing is the most effective form of advertising?
92% of people trust the recommendation of their family and friends over other forms of advertising.
You heard that right. With such a powerful impact, this type of advertising is imperative for equine businesses. Even though it is mostly a spontaneous phenomenon, businesses can make it a more frequent occurrence in several ways.
You'll feel more empowered with these three easy ways to encourage word-of-mouth advocacy.
What Is Word-of-Mouth Marketing?
Word-of-mouth marketing is a strategy that uses the customer's influence to promote a product through casual social interactions. It is free advertisement fueled by the experiences your customers have had with your equine business, good or bad.
But let's make it clear from the start. The statement "there's no such thing as bad publicity" is incorrect. Bad publicity is bad. And with the power of social media, negative news spreads like wildfire; however, good news does travel fast too. 
If you have an amazing product or service, provide spectacular customer service, and constantly communicate with your audience, you have a recipe for success!
What Makes Word-of-Mouth Marketing So Important?
What makes word-of-mouth advertising so effective is the trust component that other forms of advertising don't have. You believe your friends when they tell you about a product or service they liked because they wouldn't have a reason to lie, right?
When someone speaks of their experience with a company and its products, another may be inclined to buy even if they don't need that product or service. Some will buy JUST BECAUSE someone they trust recommended it.
No one wants to miss out on a good thing. Cue the FOMO (fear of missing out) — a feeling that you are failing to take advantage of an opportunity that can improve your life while others are benefiting from it right now.
Something also incredibly noteworthy is that word-of-mouth advocacy is a testament to the quality of a business. It helps a business gain more brand awareness and positively impacts its image.
It is important as a business owner to consider that word-of-mouth may take a bit longer than some traditional marketing avenues; however, it is THE MOST POWERFUL and long-lasting!
How to Create a Word-of-Mouth Marketing Strategy
Modern word-of-mouth marketing also includes targeted efforts that encourage customers to share positive experiences they have with a brand.
Here are three strategic ways to increase word-of-mouth advocacy:
Create a Memorable Customer Experience
Positive word-of-mouth marketing wouldn't be possible without valuable customer experience. So, if you want more organic publicity, you must start from the source — right inside your equine business.
Sell Quality Equine Products/Services
This step seems fairly obvious; however, this is not the case with many businesses. You must provide products and services that bring real value to the customer. Nowadays, consumers are smart and can sense a company just trying to make a buck. 
You can give your customers a better experience by:
Having a unique selling proposition – Customizing your products/services to be different from what your competition provides and bring more benefits to a customer. It is important to remember that you do not have to be all things to all people. Some of the most impressive companies have special niches. I encourage you to take stock of what you are amazing at and develop that.
Keeping your business promises – Advertise your products by making promises you can keep. This is simple, but many businesses don't do it. If you have a guarantee, make sure you stick to it!
For example, if you offer horse riding lessons. You want to differentiate your services by promising your customers they will be able to ride a horse alone after just three sessions. Now, you have no choice but to deliver. Make your USP specific, so customers know exactly what they will be getting or achieving. 
Make the Customer Journey a Smooth and Fast Process
Think about how you can improve your customer experience and make the necessary changes to improve your offerings.
What are the main inconveniences a customer faces when purchasing from your business? Do they encounter issues navigating your website (slow loading time, faulty design, can't be accessed from a mobile device)? Do they have to wait for the package to arrive for more than several days? 
By coming up with a solution for these customer problems, you will make your customers buy from you again and encourage them to recommend your business to their friends and family. I cannot stress this enough! If your customer has to think too much, ultimately, they will not buy.
Provide Excellent Customer Service
The truth is that your customers will inevitably have an unfortunate experience with your business at some point in time. But, there is no reason to worry. You can turn a negative experience into a positive one through your customer service.
Showing your customers that you care and go above and beyond to compensate for an inconvenience can also be a positive experience. You don't have to be perfect; sometimes, it's enough to be upfront and honest and correct the problem. This may sometimes mean you lose money; however, it is better to lose a little money than a lifetime customer.
Share Reviews
Why wait for people to share their experiences with others when you can be in control of spreading the good news?
Not all customers will talk about how great your products and services are with dozens of people, but you can. First, you need to encourage customers to write reviews by:
Displaying review options on social media/personal website/Google
Sending emails asking for reviews after they benefited from your products/services
The second and last step is to share honest reviews on your website and social media pages and make them visible to your potential clients. In this way, you will boost word-of-mouth marketing results while building more trust with your customers. You won't have to feel self-serving when you share these because many consumers buy BECAUSE OF reviews so the more you share the more comfortable people feel buying from you. It's a win-win.
---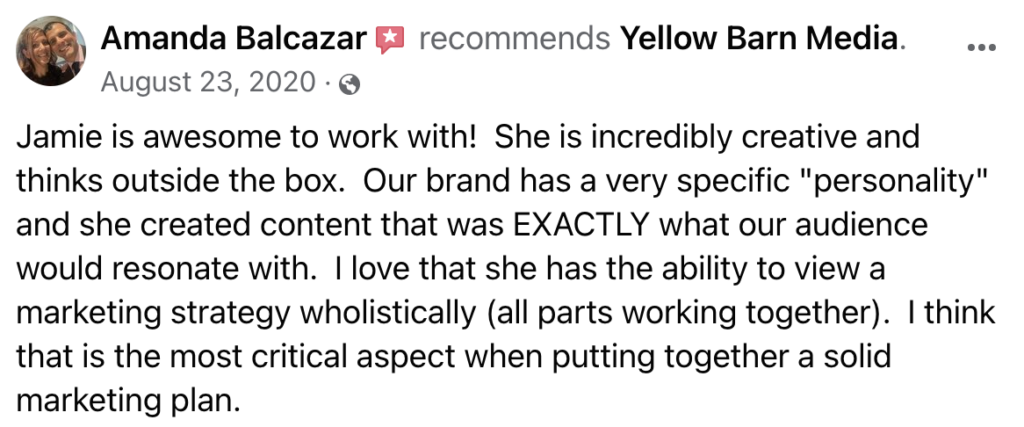 ---
BrightLocal's customer review survey showed that customers read up to seven reviews before they can trust a business, and 49% of them will only choose a business with at least a rating of four stars. Moreover, 85% of consumers believe online reviews are as reliable as personal recommendations.
Collaborate With Influencers From Your Niche
Influencer marketing is for you if you want word-of-mouth advertising at a much larger scale. Influencers are prominent figures with a larger and/or more engaged following than you have.
The key to an impactful influencer collaboration is to find online personalities that:
Have a great reputation
Present values that are compatible with your business
Are relevant to your industry
There are two ways you can go about influencer marketing:
Pay influencers to promote your products/services
Send products or provide services for free in exchange for publicity
People follow influencers that they admire and trust. So, their opinion is important and can influence their buying behavior. As a result of influencer marketing, you will gain more exposure, establish yourself as a trusted brand, and boost your sales.
One thing to note when considering influencer marketing is that it does not have to be someone with Kardashian status or someone with 3.5 million followers. If the person has a powerful circle of influence and meets the three key criteria listed above, it may be a good match for you and your equine business. 
Bottom Line
There are plenty of ways in which you can encourage word-of-mouth advocacy within your customer base. However, all these strategies wouldn't be meaningful without quality products and services and crazy amazing customer service. 
You already have what it takes. You can reach your full potential with creative marketing and a splash of social media.
Let us help you spread the word about your business. Contact Yellow Barn Media for a customized equine marketing strategy to help you reach your business goals!